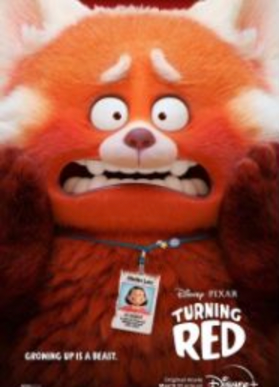 I recommend you to watch an animated movie. This movie is named "Turning Red", and we can show where to watch free Turning Red online. Although it looks cute, the whole film with a little girl's family and a "red panda" as the main axis, the reality is about an adolescent girl's experience of growing up. The story takes place in 2002 in Toronto, Canada, where Mei, who has been very obedient to her tutor since childhood, is already 13 years old and always lives under her mother's control. But as she grows up day by day, Mei gradually to the age of early love, actually unconsciously crushing on a boy, the result of her mind but accidentally discovered by her mother, and mother and daughter because of this matter began to have the first collision.
In the film, Mei often becomes a cute red panda. But why is this panda red? Many viewers believe that this super cute red panda represents the first menstruation experienced by a young girl growing up as a teenager, and the film does mention the mother's first time buying tampons for the girl, to explain to the girl after the first period she is a woman, has grown up and education and this process is undoubtedly the experience of many parents with daughters must have.
Although parents have their own ideas about how to educate their children, the film also tells us that parents must learn to accept that their children grow up to have their own ideas. For example, in the film, since the transformation of Mei began to have their own secrets, and their own wants to do, and even in the sealing ceremony "red panda" for the first time against the wishes of the family, chose to accept the "red panda" this alternative identity, even if angered the mother to stick to their own decision, this may be her first step after growing up!
As "Turning Red" is a cute animated film, the purpose is to allow parents to watch it with their children, so the writer and director especially packaged the rebellious emotions of adolescence as "red panda" to interpret, but the real life is not so "cute". Many children, when growing up and having their own ideas, may start to suppress their emotions and deny themselves if they are repeatedly stopped by their parents, thus becoming more and more rebellious or heading for the worst tragedy of self-harm. These are the ideas that are not directly presented in the movie, but it is easy to see that they are expressed in a very metaphorical way.
At the end, when the 13-year-old girl looks back and sees the red panda in the mirror, it retains its "self" that is not accepted by the family, and the mother lets go of her control over her daughter and bless her with a life broader than her own. Although such an ending is a bit too idealistic, this may be the film director's and many people's hope.
Want to watch more free animated movies? With the right tool – 4khotvideo, you can watch and download movies free from wherever you go. And it's totally free.